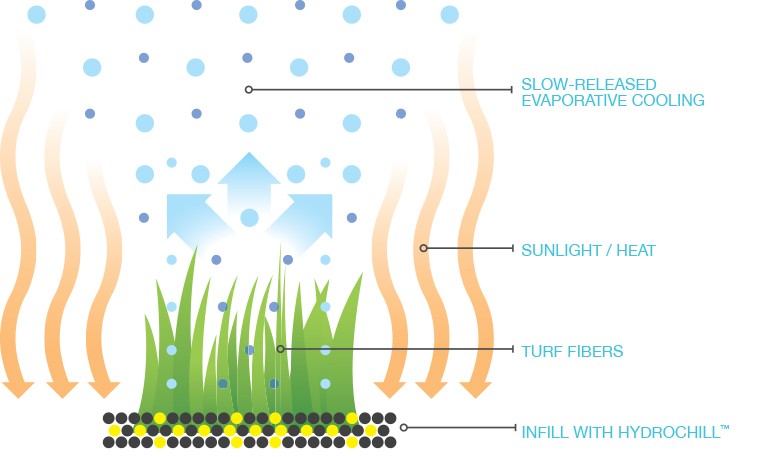 Evaporative cooling system
Artificial tuf is known to get hot, but now it doesn't have to! At Family Turf Wholesalers, we carry Shawgrass that has taken steps to cool synthetic lawns through an innovative development called HydroChill. HydroChill works to cool your artificial grass through evaporation so you can spend more time enjoying your lawn.
Hydrochill works thanks to a precoat that is applied to the sand infill. It is activated when moisture is added, which provides cooling for days. As the synthetic lawn surface is heated by the sun, moisture stored in HydroChill is released slowly through evaporative cooling. Evaporative cooling is the same means of thermoregulation that a body uses to cool itself through sweating. The evaporating moisture removes heat, leaving a cooler, more comfortable surface for families and pets.
Keep your loved ones cool and comfortable
With HydroChill's evaporating cooling system you can enjoy your yard longer. A cooler lawn means more time to relax and play with your children or pets. Hydrochill works hardest when the sun is directly overhead. When most other artificial turf would be too hot to enjoy, Hydrochill has been shown to remain 30-50 degrees cooler.
HydroChill® makes use of moisture to provide a cooling effect. Irrigation, rainfall, and even dew could help keep your lawn cool for days, depending on local conditions.
HydroChill® can be added to most of the Shawgrass infilled lawn systems.
HydroChill® will not affect the toughness or warranty of Shawgrass products.
HydroChill® is UV-resistant and should be retreated every other year for maximum effectiveness.