Prepping for the Ultimate Summer Party in Huntington Beach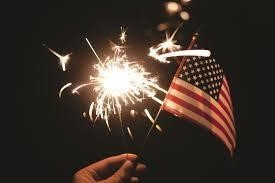 America's backyard bash. The 4th of July is the pinnacle of summer. For many of us, it's a holiday filled with the memories of bygone backyard parties and longing for upcoming summers. Nothing says Independence Day better than an outdoor gathering with friends and family. Prepping for a backyard party can sound overwhelming, but with proper planning, it will be an absolute blast! Check out some simple prep ideas for a fun backyard party to make this year's Fourth of July party the talk of the neighborhood.
Eats, Sweets, and Drinks
As you create the menu for the event, go for simple but fun. Play around with thematic drinks such as non-alcoholic red, white, and blue layered punch or blue margaritas. Try out a very different dessert like a watermelon cake. And for the main dish, hot dogs and hamburgers are as summer as it gets.
You could even make it a potluck, depending on who you're inviting. Just ask your guests to bring their best July 4th themed appetizer or side dish. Having guests bring their favorite dishes won't only make planning and setup easier; it will also make for an eclectic blend of food options.
Grill Gear
From hot dogs and hamburgers to steak or chicken, the grill is the holy grail of the party and should be primed and ready.
Decide what grill is best based on these factors: time to set up/clean up, smoky flavor, portability, and cost. Gas grills are the most common choice because they are simple to use and they're efficient. Charcoal grills are often chosen by traditionalists but need more set-up and clean-up. Electric grills may be used in or out of doors.
Smokers are a popular option for meat-loving grill masters. Smokers are designed to cook low and slow. Smokers might take more time and planning, but the final result is very much worth the wait.
If you already have your grill of choice, ensure you've chosen the right tools to finish the job.
Extra-long tongs
Grill basket
Thermometer
Durable grill brush
Entertainment for All Ages
Considering you have the specifics of the party sorted out, it is time to choose some fun backyard party ideas to keep your guests entertained. It is always a smart move to have a selection of games set out as well as some music playing.
Horseshoes
Bocce ball
Corn hole
Patriotic capture the flag (using red and blue flags)
Flag football
Red, white, and blue tag
Relay races (three-legged races, potato sack races)
Party Favors
Having some fun favors available for attendees as they arrive can really liven up the party. Patriotic-themed noisemakers, party hats, and glasses are excellent options. Setting up a do-it-yourself photo booth can also be a fun way to have a memorable party.
And it should be no question, no July 4th get together would be complete without sparklers.
We hope these backyard party tips help spark some creativity in your backyard festivities!
Family Turf Wholesalers gives residential, pet, commercial, and recreational grass with the world-class innovation you have come to know from Shaw. Family Turf Wholesalers products are designed to provide the look of natural grass and the performance characteristics that deliver extreme durability. Check out more at Shawgrass.com!