Visually Attractive Synthetic Turf Landscaping Trends in Huntington Beach
Artificial grass trends are rapidly becoming one of the most ingenious techniques to get a fresh look on your outdoor space. Versatile and easy to maintain, Turf provides an aesthetic appeal that delivers a fresh and finished appearance to almost any landscaping project. Regardless if you wanting to freshen up your outdoor entertaining area or create more functionality or punch to a lackluster outdoor space, artificial turf design concepts are what you need to consider. Faux grass is the latest trend in landscaping that's guaranteed to add a visually attractive design element.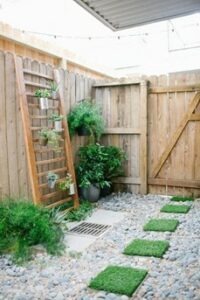 Artificial Turf Stepping Stones
Grass stepping stones using artificial turf can bring texture and color to an otherwise parched, lackluster patio or backyard. Instead of your old fashioned concrete patio stepping stones, you should try squares of artificial grass adhered to concrete pavers instead. It's a rather simple DIY project that involves just a few materials and some time. The resulting look provides an interesting and visually attractive landscape design with bright green patches of grass against the neutral tones of various pebbles, gravel, or rocks.
Image via Sugar & Cloth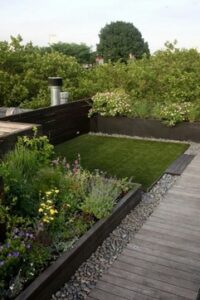 Rooftop Garden
Artificial grass is a natural partner for a luxurious rooftop garden. There is no need for watering or maintenance, and the grass can withstand the beaming heat of direct sunlight much better than natural grass. Beyond that, natural grass is simply not an option for many rooftop patios. Adding the natural look and feel of grass to a rooftop garden gives you the appearance of the outdoors and improve the appeal of the garden. Even better, artificial grass is safe for children and pets and can give your rooftop space more functionality.
Image "A Rooftop Meadow" via Gardenista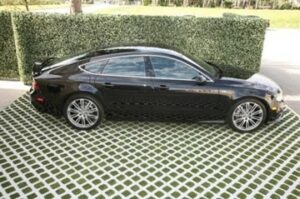 Synthetic Grass Driveway
Step aside traditionally paved or pebbled driveways. The new trend is turf. Driveways that incorporate artificial turf are both practical and visually appealing. The turf affords better water drainage while simultaneously delivering a statement-making entrance to your home. Match the look with concrete pebbles, slabs, or stones to develop a truly personalized look to match the look and feel of your house. The possibilities are infinite, from paving intermingled with synthetic turf to gravel tire paths outlined with turf.
Image via PlantoPave
Bocce Ball Court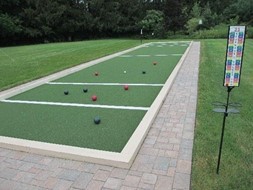 The game of Bocce Ball loved by players of all ages and can take your outdoor entertaining space to the next level. The smooth and uniform surface of artificial grass makes it the perfect playing surface for Bocce Ball. Artificial turf is also durable and easy to keep clean. Bocce courts can be just about any size, but regulation size courts are 13 feet by 91 feet. You can make your own wood frame, but ensure your ground is level and flat before you lay it out. While many courts utilize crushed oyster shells and base rock, but with turf there is no mess and improved ball roll.
Image via Pinterest
Shawgrass is an innovative leader in synthetic turf landscape design ideas. More specifically, we specialize in recreational, residential and commercial landscaping. Browse the full Shawgrass product line by Family Turf Wholesalers to see the many options available.